| | |
| --- | --- |
| Posted on October 17, 2019 at 3:30 AM | |
There was a time in my early married years that I decided to try out my sewing machine, a wedding gift from my parents. It didn't look too difficult, Actually I sewed curtains for my kitchen window and it was a matter of some straight line sewing and measuring. They turned out well. Then I chose to make a dress. That did not go well. I discovered I needed to go and buy a Pattern. Even following that was difficult. Never wore the dress. However I did find a simpler pattern to work from, and that was a little better.
These memories came up later when I found this Scripture in my Bible quiet time: 
Romans 12:2 (NIV)

Do not conform to the pattern of this world, but be transformed by the renewing of your mind. Then you will be able to test and approve what God's will is—his good, pleasing and perfect will. 
There are two very different choices to make here. You see life has patterns too, and I've found that they are really important. As a Christian, I've chosen to follow my life journey  on the road to eternal joy. As the Word tells us~
John 3:16  (NIV)
16 For God so loved the world that he gave his one and only Son, that whoever believes in him shall not perish but have eternal life.
I for one have decided to believe that Jesus is God's Son and that His torturous death followed by His Resurrection bought me the gift of salvation. It paid for my sins, so I can now live in the purity of Jesus gift to me. My sins are forgotten and forgiven, washed clean away! I have been gifted with God's DNA and am in His family now.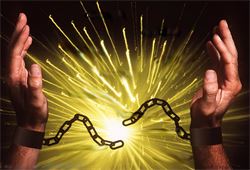 No longer am I a prisoner of sin and the evil one. Jesus freed me to live according to the blessed pattern of God's will. I have  built a wonderful relationship with God, and you can do this too!! Then the patterns of the world will no longer entice you. Sin will have no hold over you. Your new pattern will bring you onto the road of a new life where joy and peace can seam together perfectly.
If you are tired of the traps of the enemy, the unhappiness, addictions, fear, evil  memories that often capture your mind; then it's an easy choice that brings a great reward now and also of eternal proportions!  Just opt for Jesus to be the designer of your pattern, the King of your life! Ask Him.
He will never refuse a heartfelt desire for a relationshipnwith Him!
Categories: None
/