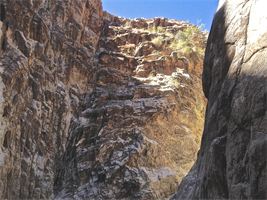 Feeling calmer and stronger, I know it is time to continue. Gazing upward I see some wicked looking overhangs and steep walls to climb. Challenges come, and facing them makes me stronger; trusting God builds my faith.
But I still have to ask ,"Are You sure, Lord, You want me to continue? I'm no spring chicken."
"Mary, do not fear, I am always with You. Have I not told you I would give you hind's (a female deer) feet on high places?
Psalm 18:33 (AMPC)
33 He makes my feet like hinds' feet
[able to stand firmly or make progress
on the dangerous heights of testing and trouble];
He sets me securely upon my high places.
"Yes Lord, You have said it and I believe it."
Encouraged, I take off again. Finding a place for my foot, I begin to climb; I'm feeling a pull to go up to my left, and so proceed to climb once again. The wall gets steeper; I've never been fond of heights, but my resolution is firm, I will not quit this task. I'm breathing hard from effort and tension. "Am I strong enough for this, Lord?" Jesus speaks into my heart: "Remember, Mary, where your strength comes from":
Nehemiah 8:10
for the joy of the Lord is your strength and stronghold.
Just hearing His voice brings joy and banishes any fear the enemy was trying to place in my heart. Indeed with the joy does come renewed faith and vigor. It takes blood sweat and many pauses, but finally I reach the top of the cliff. Breathing deeply, I sit for a drink of water thanking my Lord for His constant presence and help. With His rest also comes wisdom, and as my mind contemplates my journey, I realize the day has passed quickly and evening is not far off, so I continue looking for a place to spend the night.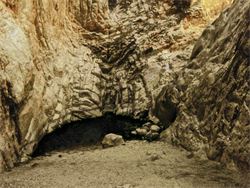 About an hour later, I spy a cave. Evening is descending quickly and this might be the place. I consult Holy Spirit and follow His guidance to the small cave. I am close and approach cautiously; do not want to challenge one of God's beautiful but hungry critters who might live there. Catching no animal odor, I shine my flashlight inside. Through the small opening I can see the cave enlarges. After climbing in, I gratefully remove my gear and begin gathering branches of a few scrub bushes still existing at this level. The warmth of a fire will feel wonderful tonight.
As total darkness falls upon the mountain, I am even more grateful for the protection of the cave God provided. The fire lends cheer, and my sleeping bag provides warmth. Night is often a time for the enemy to attack my mind, so I begin thanking God for His protection. Night noises on the mountain are strange to these citified ears. Creatures of the dark are hunting for their daily food, I hear sniffing noises, but I'm grateful for the peace of God that reigns in my heart and in my small night shelter. I rest in His hands and fall asleep.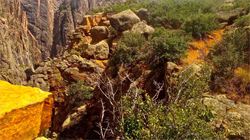 Morning light enters my tiny abode and wakens my brain. "It's time to get up" it calls. Left over chill from the night still fills the atmosphere, so with a shiver, I begin layering for the day. My backpack contains sustenance which will provide energy, but I choose to wait awhile before imbibing. After packing up, and cleaning up the ashes from the fire, I push through the little roundish 'door'. The scene is glorious as the son highlights the beautiful colors in God's creation. it fills me with gladness and a readiness to begin the day's climb. The pinnacle is closer, but still a journey away.
Psalm 118:24 (NKJV)
This is the day the Lord has made;
We will rejoice and be glad in it.
First night on the mountain passed well, and I have great expectations for the day. I can see challenges ahead, but I am also noticing how God is with me in every situation. But now, it's time with my God. . .
1 Peter 2:4-7 The Message
[ The Stone ] Welcome to the living Stone, the source of life.
The workmen took one look and threw it out;
God set it in the place of honor.
Present yourselves as building stones for the construction of a sanctuary
vibrant with life, in which you'll serve as holy priests
offering Christ-approved lives up to God.
The Scriptures provide precedent:
"Look! I'm setting a stone in Zion, a cornerstone in the place of honor.
Whoever trusts in this stone as a foundation will never have cause to regret it."
To you who trust him, He's a Stone to be proud of,
but to those who refuse to trust him,
the stone the workmen threw out is now the chief foundation stone. 
Jesus, You are my foundation, my Cornerstone. Upon You I build my life. This journey to the next level is ordered and guided by You, and I trust You to lead me along the right trail.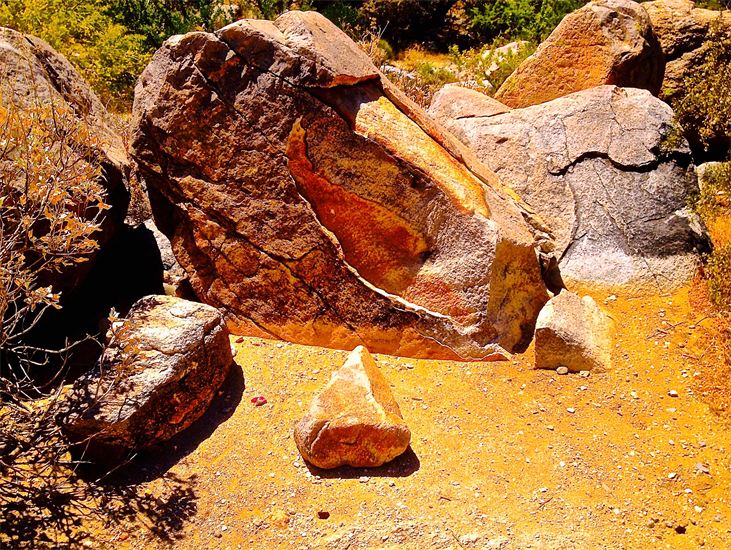 There are many stones along this path of life and growth, some small and others of boulder size. Some I step on, others I shift to go around. Some I move; others maneuver me, but You, Jesus, are the center stone of my existence. You move me. I too am a stone. A building stone, a brick, to construct a temple worthy of You to inhabit.
We are all stones and, when filled with the Holy Spirit, gathered together, we are constructing a temple for God to indwell.

EPHESIANS 2:21
In Him the whole structure is joined (bound, welded) together harmoniously, and it continues to rise (grow, increase) into a holy temple in the Lord [a sanctuary dedicated, consecrated, and sacred to the presence of the Lord].
22 In Him [and in fellowship with one another] you yourselves also are being built up [into this structure] with the rest, to form a fixed abode (dwelling place) of God in (by, through) the Spirit.
This temple is filled with Your presence in the Holy Spirit filled stones~ that's us. It attracts those searching for truth.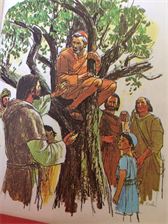 People were drawn by Jesus' presence as He walked this earth~ there was the woman with the issue of blood, Zacchaeus up in the tree, the blind man, the paralytic, and more. All came to where You were, Jesus. Just Your Presence would draw them.
I, too, am drawn to You, Lord; my soul cries out to You, and I know this new journey will help me draw nearer to You. As I scramble up this trail, the path becomes fainter, and soon degrades into a field of scree~ a large mass of small loose stones. [A society of scoffers and unbelievers through which I must make my way.] Due to the special 'sunglasses', I can see a faint guidance going off and up to the left. I trust God to lead me, and so follow what is almost just a sensing.
This scree field could be deadly, as it is fairly steep and the drop is significant. Carefully keeping tuned into Holy Spirit's guidance, I cautiously move one foot slowly after the other; there comes a shift in the stones; perspiration gathers on my forehead as tension mounts. I refuse to think about the possible fall! But standing perfectly still, I breath deeply, and focus on Jesus; my Protector will keep me safe. I trust in Him. My mantra:
Proverbs 3:5-6 (AMPC)
5 Lean on, trust in, and be confident in the Lord
with all your heart and mind and
do not rely on your own insight or understanding.
6 In all your ways know, recognize, and acknowledge Him,
and He will direct and make straight and plain your paths.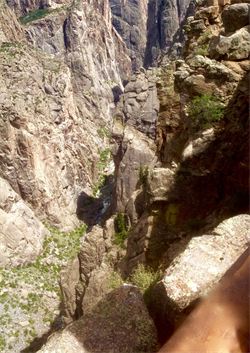 It almost seems as if certain stones have an inner glow, and I follow their route. Before too long, thankfully, my slow and careful progress reaches the other side of the scree field. I take a deep breath of relief before continuing.
Once again I'm walking around boulders of temptation, climbing over rocks of unease and winding a circuitous path which lands me at a beautiful overlook. Far below faint sounds of a rushing river are meandering up the cliffs.
I had no idea a river was anywhere in this place, yet with the echo of sound comes a feeling of quiet cheer. . . like it's a message from Jesus saying, "I'm here, be filled with my joy." Thank You Jesus; You knew I needed this place of rest for my body, soul, and spirit.
Here I relax and have an energy bar. You are so good to me, Lord, always providing for my needs. My friends, do you find He does that for you too? I invite you to return Friday for the next part of the journey. . night on the mountain.
/