I sat listening to the story of a beautiful young woman who at age 17 was horribly burned over 40% of her body in a chemical accident. Her story of courage and redemption so touched my heart! There she stood with scarred body and face; dreams of being a model and actress gone forever. . .   Perhaps the worldly version of the dream containing surface beauty would never be fulfilled, but where does true beauty exist?
This lovely child of God dug down deep into her scarred body and soul to find true worth. The worldly solution to assuage the pain was the attempt to drown it in alcohol; but the enemy's solution only brought depression. Her friend led her back to the Savior Jesus who always welcomes us in any condition when we come to Him. She gave Him her heart, her soul, her whole being and He gave her supernatural love, courage, and the ability to bring hope to others.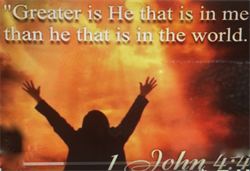 Teary eyed she stood in front of the audience revealing her inner struggles and the distress of her family. She also related as she emerged out of the depression, looking into the mirror she began to see Jesus' reflection rather than disfigurement. Her worth was huge in the eternal perspective. This led me to question myself. How important is physical perfection to me? What do others see when they look at me? In a society that worships youth, do they judge me as too 'ancient' to have value?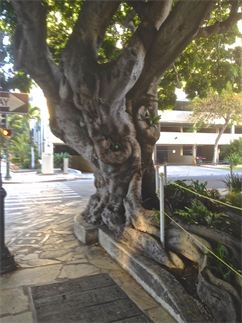 Now this old tree stands proudly displaying its wounds in plain sight. I realized that it is the scarred trunk that brings a peculiar beauty to this magnificent warrior.
Who do I see when I look into the mirror? Before I frowned at all the wrinkles and discolorations of age, but yesterday for the first time I did not care. I said, "Lord, You will use me as I am. As the moon reflects the light of the sun, I want my countenance to reflect the light of joy I find in You. Let others see You when they regard me. I submit myself to You."
Who do you see in the mirror? Where do you find your worth? What struggles of self worth are you dealing with today?
Praise You mighty God! Mighty Lord, You shall always be my God forever and ever. Faithfully You shall teach me and and encourage me. I bow down to You in thanksgiving and worship!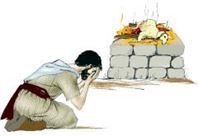 On Sunday I attended mass with a friend, and at communion time God gave me a picture in my mind of Jesus. At this time of remembering Christ's sacrifice, it was not Jesus on the cross nor His horrific torture that appeared in my field of vision. Rather it was Jesus laid out on an altar like a lamb offered up in Abraham's time.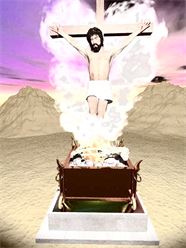 His arms outstretched, His flayed body was not bloody but white, the perfect sacrifice. It was not a close up vision. Then the picture of the body on the altar multiplied from person to person until it spread all over the world and it was an individual image over each persons head, over everyone attending this mass to every nation and land.
This vision gave me an increased insight into the fact that Jesus sacrificed Himself for all mankind. He did this because He loves us all so much! All peoples are invited to know Him and feel His love and mercy. As we receive Jesus in Communion, let our awareness be opened to His mercy, and let us be obedient to pray for everyone as Paul instructed Timothy.
1 Timothy 2:2-5 (NIV)
2 I urge, then, first of all, that petitions, prayers, intercession and thanksgiving be made for all people— 2 for kings and all those in authority, that we may live peaceful and quiet lives in all godliness and holiness. 3 This is good, and pleases God our Savior, 4 who wants all people to be saved and to come to a knowledge of the truth. 5 For there is one God and one mediator between God and mankind, the man Christ Jesus, 6 who gave himself as a ransom for all people
And I add Jesus' instruction: Matthew 9:38 (NKJV)
Therefore pray the Lord of the harvest to send out laborers into His harvest."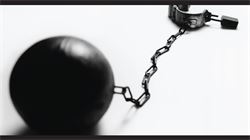 Jesus sacrificed Himself that our debt may be forgiven. Only He, as the God-man, could mediate the sin of mankind. Only His sacrifice could pay the ransom of man's betrayal of God; only this could halt the shackles of satan's sin nature from being passed down to all mankind. As we take communion all over the world, we remember in our hearts that, because of Jesus sacrificial death so long ago, we are now freed from the chains of satan binding us in servitude to his evil ways.
When we choose Jesus as our Lord and Savior now, accepting His gift of redemption, Jesus restores us to our original life with God's DNA. The enemy no longer can bind us to his machinations, for we now joyfully serve Almighty God as our Lord and Master. Alleluia!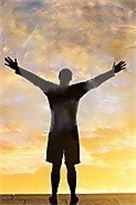 2 Corinthians 13:14 NIV
May the grace of the Lord Jesus Christ, and the love of God, and the fellowship of the Holy Spirit be with you all.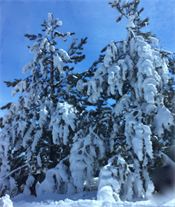 Walking through the forest after a spring snow had dressed the scene, i so enjoy the sounds permeating the atmosphere. . . the silence punctuated by the crunch of my boots on the crusty snow, the bird songs of joy, a cracking of a branch moving in the breeze. As my lungs inhale clean pure air, my heart drinks in the refreshing spirit of God's beauty. The magnificence of His marvelous creation for us lifts my soul in words of thanksgiving. You are so good Lord, my God! You created this earth for us to enjoy. Do you get out and enjoy the glorious presents our Creator designed for our enjoyment?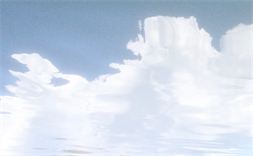 As the trail comes to a clearing my eyes behold God's loving hand in all the wonders of this world. In the meadow walks a regal stag, head alert sniffing the air. Beyond him, standing in majesty, a mountain high and lifted up, covered with a dressing of pristine white snow reflects the rising sun's glory, a small sample of the Son's dazzling splendor. It fills my soul as I stand in awe. You, fill my soul Lord. This creation of Yours so inspires my being, that I can't move; it's as though Your heavenly light shines upon me, pinning me breathless to the spot.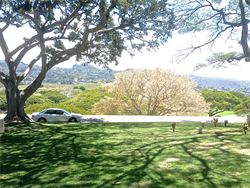 Little did I know, Lord, this morning would become an intertwining of my heart with Yours. As the sun moved on, the mountain settled down into it's natural earthly beauty, my mind quieted into a place of rest and peace.
Thank You, Lord for this extraordinary time with You. Your presence comes to me at different times and is always a precious experience where my soul relaxes in quiet joy. How special was this morning, Lord! Thank You!
I am so thankful for this time with my God. I sorely needed it as life has recently been full of the grief of losing long time friends.
Coming out of my clam shell. Been focusing on just making a perfect pearl, and now it is finished: I can open up and see the green pastures ahead where Holy Spirit is preparing my next journey; but first He is giving me rest. Body and soul both need downtime to recuperate to full strength again.

What an amazing God we serve! He knows me so well and because He loves me dearly, He leads me to my destiny in a manner of kindness and gentle persuasion. It's a journey that takes me through difficult passages and sometimes even danger, but He is always by my side. He never leaves me.
Hebrews 13:5-6
"I will never [under any circumstances] desert you
[nor give you up nor leave you without support,
nor will I in any degree leave you helpless],
nor will I forsake or let you down or relax My hold on you [assuredly not]!"
6 So we take comfort and are encouraged and confidently say,
"The Lord is my Helper [in time of need], I will not be afraid.
What will man do to me?"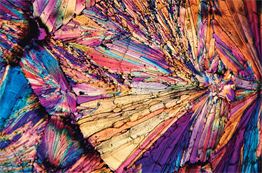 Life comes to us like this beautiful ball of shining crystals, some clear, some gold, others hues of red, some shades of blue, but always sacred and lovely to behold. We take this gift at birth and make choices throughout life about what we do with it. By my age the beautiful ball can be broken and dulled by dirt and grease and ugly smears. But the miracle of the ball is that when we give it to God at any time in our life, He can polish and shine it up like new, and make all the broken pieces reflect His glory.
Life is His precious gift to us in the womb of our mothers. As we learn the value of this wonderful offering, and we treat it with honor and respect, we begin to reflect the light of God's integrity and virtue. Unfortunately, in the last 50 years life itself is being degraded in our society. The enemy is working hard to besmirch the gift of life, and we as a society are allowing it. We steal life from the unborn murdering them in the womb; we allow our children to play video games where points are given for killing people with guns, cars, etc. Our education system is removing God from their teaching, thus children have no ultimate foundation to support them through hard times, and no reason to behave responsibly, and to respect authority of parents and teachers. Thus we suffer school shootings and rampages of revenge.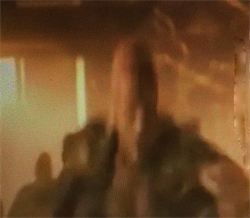 Our enemy is maneuvering and manipulating thinking patterns of our culture changing step by step making evil seem good and good seem evil. Thus, those with a love of God and His Word are made to seem hateful, while the breaking of God's law is made to seem righteous. In these end times life will become more difficult for Christ followers, but we are still called to help others come to know Jesus and the wonderful new life He died to bring us. My friends, I encourage you with the Word:
Galatians 6:8-9 (NKJV)
For he who sows to his flesh will of the flesh reap corruption,
but he who sows to the Spirit will of the Spirit reap everlasting life.
9 And let us not grow weary while doing good,
for in due season we shall reap if we do not lose heart.
Let not discouragement enter your heart, but seek always our Lord God for rest and strength to bear any difficulty. Cling to Him
Deuteronomy 13:4 AMP
You shall walk after the Lord your God and you shall fear [and worship] Him
[with awe-filled reverence and profound respect],
and you shall keep His commandments and you shall listen to His voice,
and you shall serve Him, and cling to Him.
Yes, cling to Him and He will keep you, protect you and guide you on your path of life. Is this not what we all desire~ a guide to bring us through all the difficult decisions, the rocky blockades, and the dangerous precipices of life on our way to eternity?
Lord God, You are moving! You are setting the stage of Your end time play. It's already begun. Things of prophecy from the Bible are happening. I pray, help me do well in the role You have cast me, Lord.
In the beginning of beginnings Father God Your love brought forth the world and children; You breathed Your life into them. Along the centuries, I entered Your plan. You chose to give humans a free will, knowing that they could choose to love You in return or reject You. Yes, You knew they would be imperfect and some in their ignorance and immaturity, like me, would sin against You, and would not be able to exist in Your Presence. You also knew Your enemy, satan, would try and win them into his camp of hate.

 
 
 
Then Lord, Your Son Jesus volunteered to redeem the lost souls by coming to earth donning a human nature and accepting the punishment for the sins of all mankind as our Savior Redeemer. He was cruelly tortured, humiliated and crucified in horrific pain to pay for my/our sins. Jesus loved us enough to do this, so we would be cleansed of our sins and able to build a relationship with Him and the Father while still here on earth; then we would also live in eternity with them. Jesus great love paid our sin debt and purchased the freedom of all who choose to accept His sacrificial gift.

 
 
I can never repay Him for His huge sacrifice, but I can follow His commands to show Him that I love Him and want to do His will. And I can share His love story with others so they too can experience His monumental love for themselves.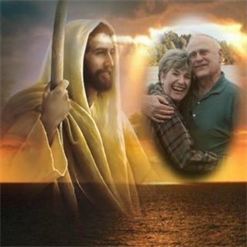 After Jesus' death, He arose from the dead, finished His teachings with His disciples, and returned to His home in Heaven. But before leaving He promised to send "another" like Him who would be our teacher, counselor, comforter and more.
John 15:26-27 (AMP)
26 "But when the Helper (Comforter, Advocate, Intercessor—Counselor, Strengthener, Standby) comes, whom I will send to you from the Father, that is the Spirit of Truth who comes from the Father, He will testify and bear witness about Me. 27 But you will testify also and be My witnesses, because you have been with Me from the beginning.

Jesus made sure we could always have help in performing our role. Now our part is to become acquainted with and build relationship with the Holy Spirit, our Guide, Teacher, Advocate, and all. He loves us with the same amazing love as the Father and Jesus, so a deep and intimate relationship can be built with Him. In conversation with Him I have learned many truths of life and of the Bible and how to apply them to my life. You can enjoy this too.
My friends, God created you for a purpose. Discovering this purpose will guide your path to confidence and joy. I encourage you, if you do not enjoy a closeness now, begin to construct a relationship with our Almighty God. Time is short and He is waiting for you!
(PS The book Cast Up A Highway presents a way of building this relationship.)
/